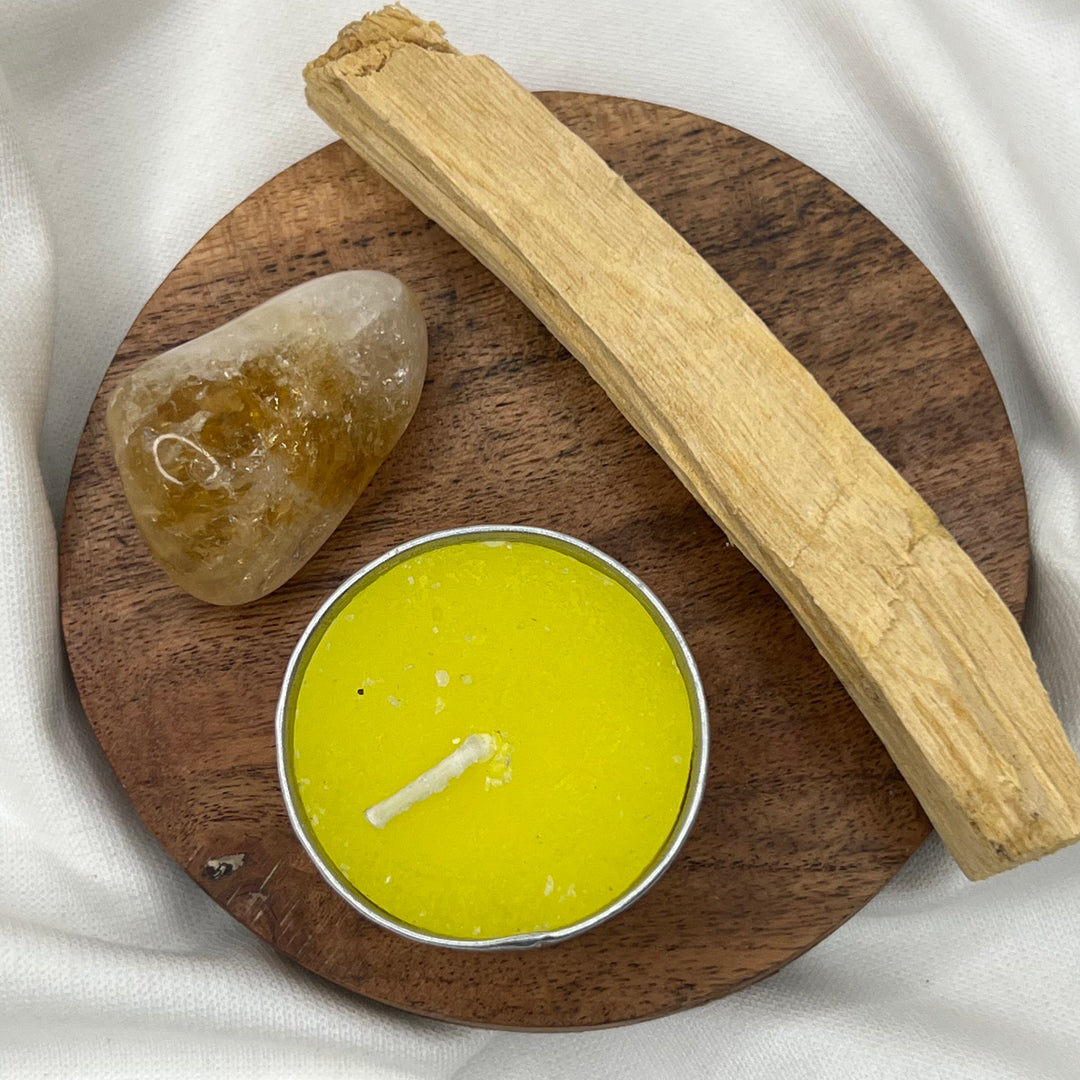 Solar Plexus Chakra Kit
---
We ship worldwide - FREE Shipping over $100 (US Only)
In stock, ready to ship

Inventory on the way
Product Name: Solar Plexus Chakra Kit
Each kit contains a crystal, a candle, and a palo Santo stick. 
Purpose: Chakra Kits are perfect for aligning and balancing a specific chakra. The kit helps you focus on one chakra at a time to ensure best results. 
Chakra Info:
Solar Plexus Chakra
Location- Right above navel
Color- Yellow
Meaning- Self esteem, Motivation, confidence, will power
Out of balance- low self-worth, pessimism, no trust in natural flow, and need for material security
Product Description: 
Crystal- Carnelian
(Carry the crystal around with you, meditate/pray with it, sit it on an altar, use it in anyway you are being led to)
Tealight Candle- Yellow
(Burn the candle while you pray/meditate about your root chakra and/or your root chakra struggles)
Palo Santo
(Cleanse yourself, space, and items to reset the energy and set your chakra intentions)
Who should use this product: Suitable for use with individuals wanting to bring more good vibes into their spiritual journey. Chakra kits are perfect for focusing energy on one specific chakra in order for it to be in it ideal state.
Candle Scent/Notes: None
Candle Burn Time: 3-4 Hours
Candle Product Care: 
Upon receiving your candle, the first thing you want to do is cleanse your candle. Prior to lighting, trim the candle wick ¼ inch. This will allow the candle to burn even. Be sure to place the candle on a stable/ heat resistant surface.
Crystal Uses:  Use crystal sets daily by carrying them with you, meditating with them, or place them in an area you are spending most of your time.
Crystal Product Care:
     1. Cleanse your crystal set when you first receive them. (Florida Water, White Sage, or Moonlight)
     2. Set your intentions for your crystals 
     3. Charge your crystals. (Sunlight, Bury them, Selenite)
     4. Enjoy the energy of your new crystal
Palo Santo How to use: Hold the cleansing stick in the flame of your lighter (long handled lighter preferred) for at least 30-60 seconds and rotate so all sides get lit. Give it a good blow and a shake. You should see smoke and no flames, then cleanse away.
Pairs Well With: Chakra Incense, Chakra Crystal Set, Singing Bowl 
All products are inspected prior to shipping, so please bare with us as we show products extra affection and positive energy.
Once Order is placed it may take 2-5 business days (Business days are Weekdays not weekends or Holidays) to process and verify information before the order is shipped out.
Shipping normally takes about 2-7 business days. The processing and shipping times may be delayed during SALES and Holiday times.