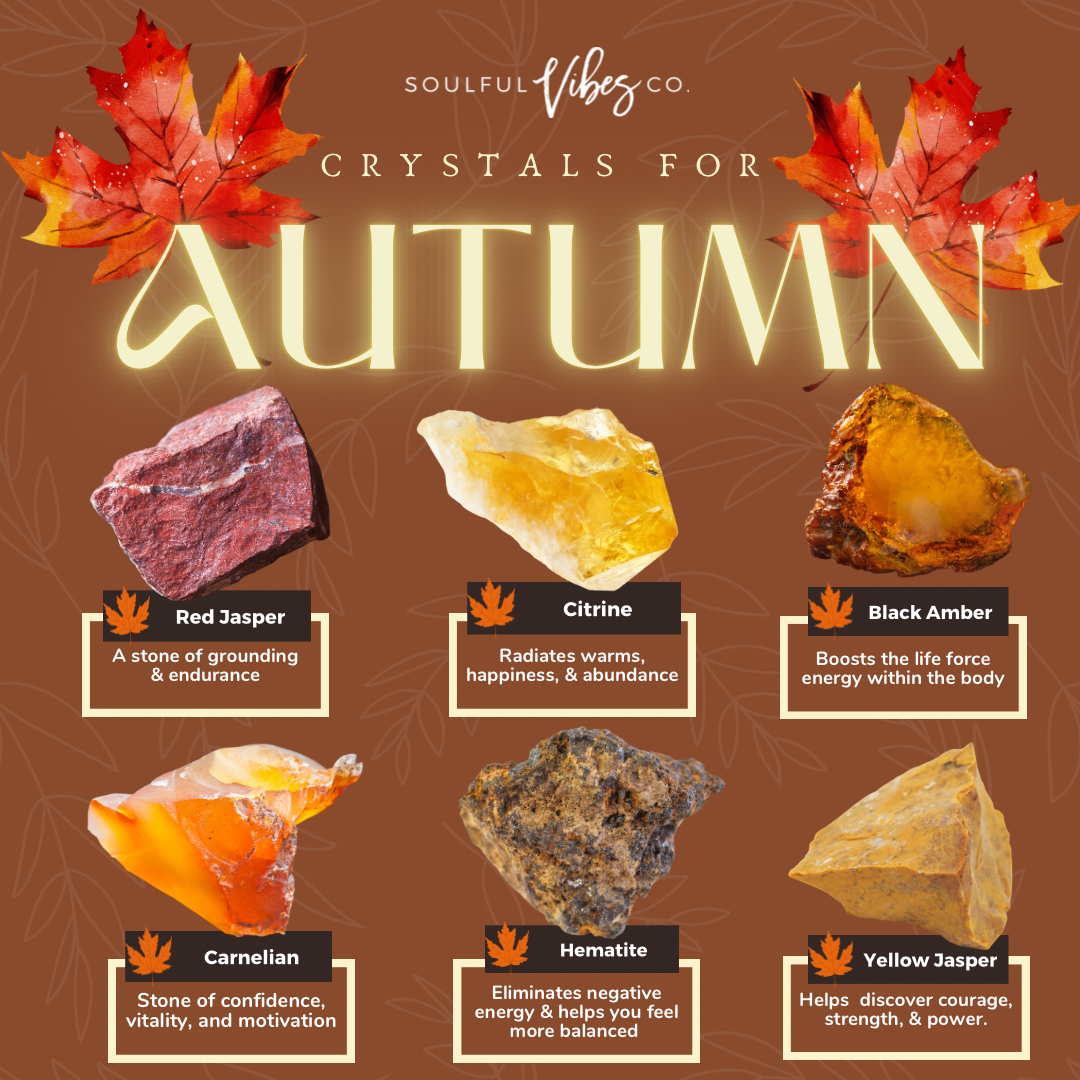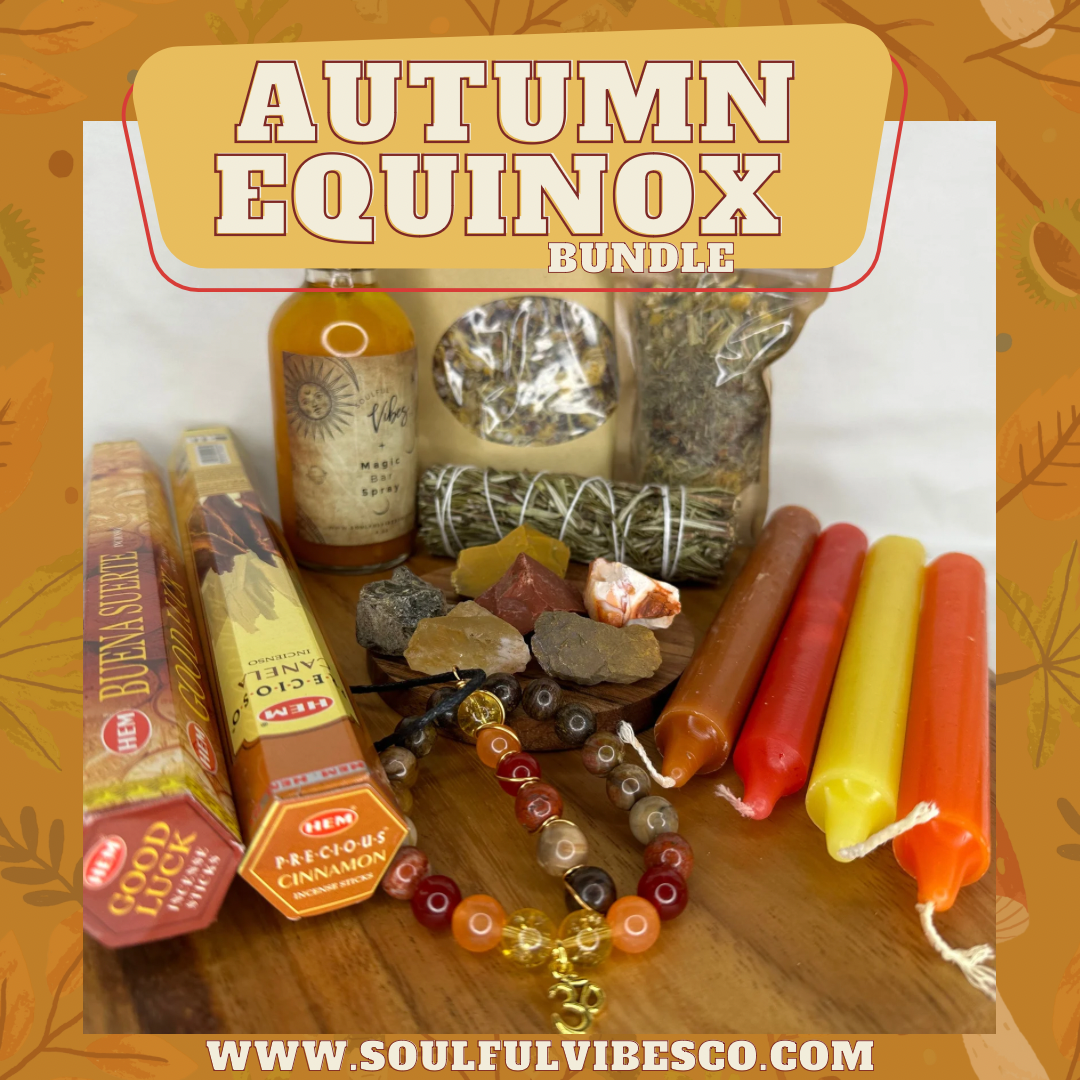 Autumn Equinox Box
Regular price
$155.00
Sale price
$65.00
Save $90.00
/
---
We ship worldwide - FREE Shipping over $100 (US Only)
In stock, ready to ship

Inventory on the way
Product Name: Autumn Equinox Box
Purpose: 
As the leaves start to change and the air gets crisper, it's time to celebrate the autumn equinox and all the beauty it brings. Our limited edition Annual Autumn Equinox Box is the perfect way to connect with the changing seasons and reset for the months ahead.
Inside this curated collection, you'll find an array of goodies to enhance your autumnal rituals and bring the cozy vibes of fall into your space. The box includes a selection of crystals, each chosen for their unique energies and ability to help you align with the autumn season. There are also candles in warm and inviting autumnal colors, as well as incense to infuse your space with the scents of the season.
For those who love to work with herbs, the box also includes a herb set featuring a variety of autumn-inspired herbs to use in your rituals and spells. And for those who want to cleanse their space and spirit, there's a cleansing stick and ritual bath to help you release any negative energy and welcome in positive vibes.
But that's not all. The box includes even more goodies to help you celebrate the autumn equinox in style. There's a limited edition handmade crystal necklace featuring all the colors and energies of autumn, as well as an exclusive Autumn Equinox Bracelet. And for those who love to spritz their space with a refreshing scent, there's a bottle of our new Fall Cleansing Spray, infused with the scents of cinnamon, sage, and other autumn-inspired scents.
Valued at over $155, this box is available for just $65 - a steal for all the goodies inside. Don't miss out on this opportunity to connect with the changing seasons and reset for the months ahead. Order your Annual Autumn Equinox Box today and get ready to fall into being.
Product Description: 
This Bundle Includes the following:   
Exclusive Autumn Equinox Designed Bracelet
Exclusive Autumn Equinox Designed Necklace
Autumn Reset & Reap Ritual Bath
Autumn Blessings Spray

Autumn Equinox Herb Set

Exclusive Cinnamon Incense
Exclusive Good Luck Incense
Rosemary Cleansing stick
4 Taper Candles (Yellow, Orange, Brown, Red)
Black Amber
Yellow Jasper
Citrine
Red jasper
Hematite
Carnelian
THIS IS A VERY LIMITED BUNDLE, SO ONCES IT GONE IT IS GONE FOR THE YEAR
Please see individual product descriptions for more information on product details, how to use, precautions, etc.
Pairs Well With: any specific manifestation items that you may be working on in your life
All products are inspected prior to shipping, so please bare with us as we show products extra affection and positive energy.
Once Order is placed it may take 2-5 business days (Business days are Weekdays not weekends or Holidays) to process and verify information before the order is shipped out.
Shipping normally takes about 2-7 business days. The processing and shipping times may be delayed during SALES and Holiday times.